The Saint John Flames win the 2001 Calder Cup!
Click on each picture for a full-sized version:
Please note: All pictures are copyrighted and cannot be used without permission. Please contact aaron@calgarypuck.com for details.

&nbsp With 3.9 seconds left in the game, Marty Murray clears the puck out of the zone.

&nbsp Steve Montador and Darrel Scoville begin their celebrations, while Murray, Botterill, and Brochu watch the final second tick off the clock.

&nbsp The horn sounds, and Murray, Montador, and Scoville pile on Martin Brochu.

&nbsp The players from the bench rush to celebrate near Brochu.

&nbsp The mob grows...

&nbsp Dressed in street clothes, Miika Elomo jumps on top of the net, while the local media moves in.

&nbsp The Flames off-ice staff (doctors, trainers, owners, etc.) join the celebration.

&nbsp At the other end of the ice, the Wilkes-Barre Penguins sit dejectedly.

&nbsp The scoreboard tells the story. The Flames have won the Calder Cup after a fantastic 1-0 game.
&nbsp The players shake hands and exchange hugs after a rough series.

&nbsp Steve Begin is presented with the Jack Butterfield trophy for being the 2001 AHL playoff MVP.

&nbsp Captain Marty Murray accepts the Calder Cup on behalf of the team.
&nbsp The players hoist the Cup together

&nbsp The Flames make one of their three victory laps around Harbour Station.

&nbsp The team poses for its championship picture.

&nbsp The players leave the ice after the 20+ minute celebration. Darrel Scoville, who scored the winning goal, is pictured at the left with his young daughter and the Calder Cup. Scoville and Begin were the last to leave the ice.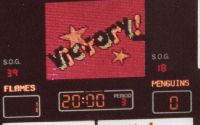 &nbsp A picture is worth a thousand words. In this case, it represents the 99 games played by the Flames this season. (This picture is my desktop wallpaper on my PC).